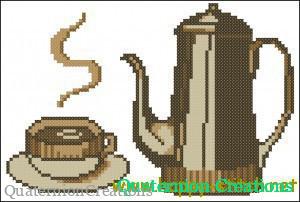 A small and simple pattern for all coffee-lovers all over the world. Both the kettle and the cup on this chart are made in soft and warm brown-and-beige colors (also with coffee in mind!).
Due to limited amount of colors and small size, this is a good piece for beginners.
Coffee time cross stitch chart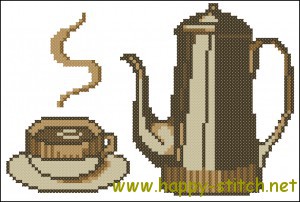 Stitch count: 91 x 61 stitches, 5 colors
! Download free Coffee time cross stitch chart
I remember visiting a coffee museum once, where you could try the same coffee prepared in different machines, like Turkish coffee on sand, Italian espresso machine, French press etc. It was quite interesting to see how the taste changes because of the way coffee was brewed.
Ah yes, and if you world like a similar pattern for Tea time, just let me know in the comments.