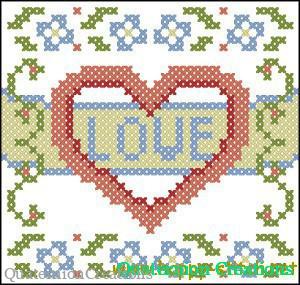 I'm home again 🙂 The weather on my vacation didn't turn out to be as planned, but I still got my share of sun and ocean. And a bit of Christmas spirit as well… Can you feel the Christmas coming? 🙂 Anyway, it's time to start stitching seasonal decorations, socks and presents. Take a look at my Christmas patterns collection!
Today I made a small and almost square chart with a heart, some flowers around it, and LOVE written inside. This pattern should be very easy and can be stitched in a couple of hours.
Love and flowers cross stitch chart
Stitch count: 41w X 37h , 5 colors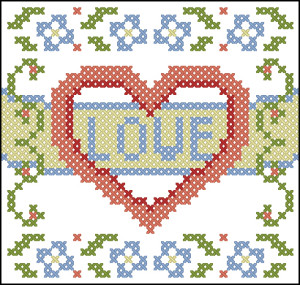 ! Download free Love and flowers cross stitch chart
On second glance, the pattern looks a bit like a tattoo to me, though I never intended it to be this way.