Oldies but goldies – I made the "Avocado" cross stitch chart more than a year ago, and it is still one of my favorites. It is a pair for the Pumpkin pillow : same size, same style and the same vegetable ideology.
Did you know in Indonesia they make a dessert drink with avocado and chocolate syrup? Yuk! I would rather see it in salads and sandwiches. Or on a pillowcase: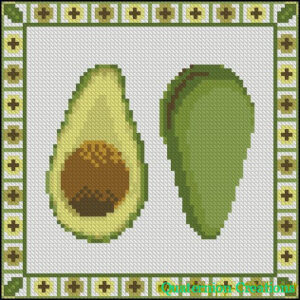 Схема для вышивки "Авокадо" – это парная схема к тыкве : у них одинаковый размер и орнаментация и обе схемы я задумала как схемы для вышивки наволочее для декоративных подушек. Впрочем, эти схемы могут быть вышиты и как украшение для кухни.
Кстати, знаете ли вы, что в Индонезии и Юго-Восточной Азии из авокадо делают коктейль? Десертный, с шоколадным сиропом (фу, гадость!). Лучше уж на подушке: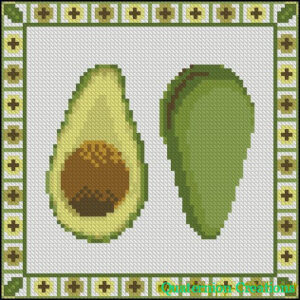 ! Download free Avocado cross stitch pattern