Yet once again a small addition to the thematic Halloween patterns. This cross stitch pattern of a black cat is based on a clip-art picture from the Web. It is quite small and doesn't require much technique or patience. It also can be matched with the patterns in the Halloween pack and used for decoration.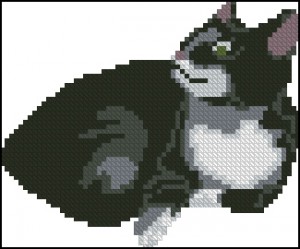 Use the download link below to get the pattern and the colors list.
Stitch count: 65w X 54h
Colors: 7
Download Black and white cat cross stitch pattern
A cat person? I have more original cat patterns!
Еще один черный котик для вышивки крестиком (схема сделана на основе клипарта, найденного в сети). Этот симпатичный лежащий котик может быть использован и как дополнение к набору схем для Хеллоуина (он примерно того же размера, что и остальные схемы в наборе), так и отдельно. Схема маленькая и достаточна простая для начинающих или нетерпеливых 🙂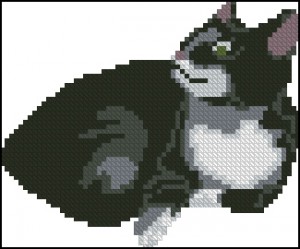 По ссылке для скачивания (чуть ниже) вы можете скачать архив со схемой и списком необходимых цветов.
Размер: 65 * 54 крестиков
Цвета: 7
Скачать схему для вышивки крестиком "Черный котик"
Любите кошек? У меня есть для вас и другие авторские схемы для вышивки с кошками!