Do you enjoy Christmas season? To be honest I never knew what it's like until my first visit to the US during December. Now I know that Christmas is not only presents and decorated trees, but also candles everywhere, a subtle smell of cinnamon, and infinite Christmas songs on every radio station (Let it snow, let it snow. let it….). Oh, we do have all of that back home, but quite in a different degree 🙂
If you want to make something special for this Christmas, try decorating the presents (or anything else) with the patterns from my Christmas pack. The patterns in this pack are small and simple, and suitable for nearly every surface you can cross stitch on. There are four patterns in this pack: holly with red berries, Christmas tree, a present with ribbon and a poinsettia. (Click More to download)
And yes, it is never too early to start preparations for The Season!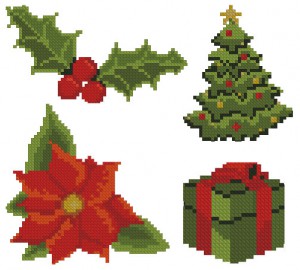 Любите ли вы Новый Год и Рождество так, как любят их американцы? Когда мы с мужем поехали в поездку по Штатам и выбрали для поездки зиму (просто чтобы увеличить отпуск за счет январских каникул), мы, честно говоря, не ожидали того, что нас ждало. Рождество там – это не просто красивые украшения на домах и внутри, не просто елки – это постоянные рождественские песни по радио (в дороге мы выучили наизусть, наверное, все; а кое-какие успели и в зубах навязнуть), это бешеный ажиотаж в магазинах и полность. вымершие 25 декабря города. Полностью – это значит, что не работают даже круглосуточные заведения, и на 30 километров открыта только одна закусочная, в которой можно поесть… Было приятно вернуться домой к Дедушке Морозу 🙂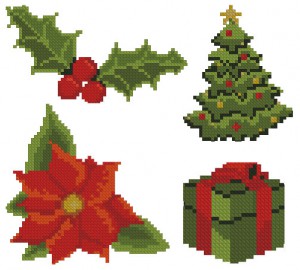 Download Christmas patterns pack
The second pack of Christmas cross stitch patterns coming soon!
Но как бы там ни было, я всё равно люблю и Рождество, и Новый Год – нет других таких праздников в году, когда люди так сильно бы старались стать лучше и добрее. Поэтому и готовиться я начинаю загодя… Сегодня я предлагаю вам присоединиться ко мне и скачать набор орнаментов для украшения новогодних и рождественских подарков, салфеток – и любых других предметов. В наборе четыре небольших схемы: остролист с ягодками, елка, подарок и пуансеттия (рождественская звезда).
Скачать Новогодний набор орнаментов для вышивки
Скоро в блоге: Второй набор рождественских схем!