Okay, okay, I got carried away in my previous Christmas post. Here is a little present for all of you looking for pumpkins and broomsticks: a Halloween patterns pack. Use these small patterns for stand-alone presents or for decorating. The patterns are really simple: average stitch count is 45×45 and less than 10 colors, thus easy to cross-stitch even for a child.
And yes, I hope to make also a Halloween temari 🙂
There are five patterns in the pack:
– a pumpkin,
– an old tomb,
– a bat,
– a spider,
– and a black cat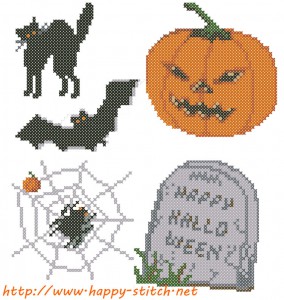 (Click more to see the download link)

Download Halloween cross stitch patterns pack
Looking for something more complicated? See the Halloween witch pattern!