How to make a Halloween temari
This nice thematic Halloween ball is really easy to make even if you are a temari newbie, just follow the steps of the tutorial. (Tip: You can use the ball that is not perfectly round)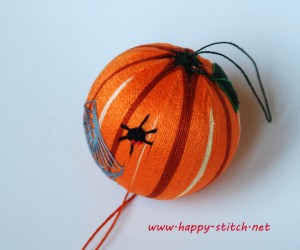 Colors and materials: 8 colors (orange, dark orange and beige for the pumpkin, two different greens for the leaf, black and red for the spider and gray for the web); dark orange or brown sewing thread
1. The pumpkin
a.Make the temari core (or use styrofoam ball) and cover it with brown sewing thread. This color should be darker than the colors you will use for stitching, because it will be seen only in the shades of our pumpkin.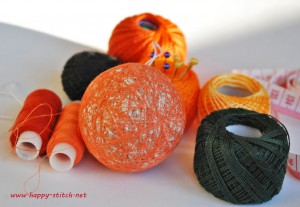 b. Take the marking thread (use the same color as for the pumpkin highlights) and divide the ball into several wedges from north to south (I used 8 on the primer: the Simple 8 division)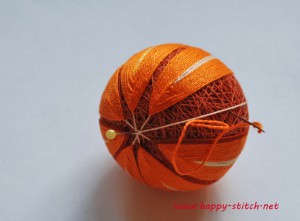 c. Stitch a spindle around every marking thread, starting around 1/4 of it's length from the pole. Go from lighter colors of orange to darker inside out. Try to make every spindle a bit different in color from the others to give the pumpkin a more realistic look.
2. The leaf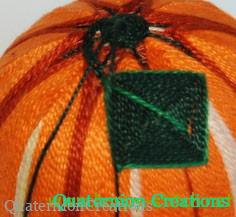 Take the darkgreen thread and make a cross with two stitches on one side of the ball close to the pole. Start stitching with masu stitches using same color until you have a green rectangle. Make a couple of masu rows with lighter green. You can also stitch several leaf veins with light green. Switch back to dark green thread and make the stem with chain stitch (as on photo) or stem stitch.
Tip. You will be stitching on the previous round of spindles so try to keep them neat.
3. The web
The spider's web is made in gray thread with the temari swirl stitch.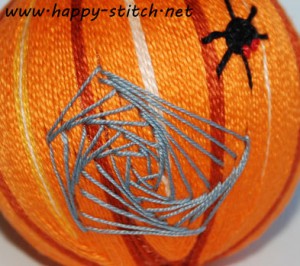 4. The spider
Take the black thread and make three inch-long stitches intersecting in one point. Weave a tight spider's web around that point to make the body. Stop when the pattern starts to look like a spider with six legs 🙂 Make the eyes with red french knots.