This pattern for making a cross-stitch cushion was heavily inspired by Mayan culture. An ethnic-styled lizard curles over the Mayan symbol for water (bottom right). It is the first in the Mayan-series cushions I designed and I even cross-stiched this one in a real cushion (photo inside!).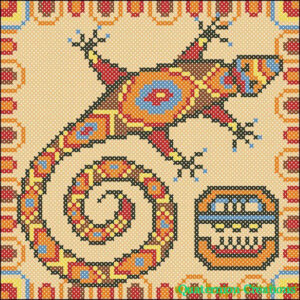 Эта схема для вышивки (а вообще я питаю нежность к подушкам и орнаментам) вдохновлена культурой индейцев Майя. Да-да, тех самых, которые предсказали конец света в конце этого года, но я им не верю 🙂 На схеме – ящерица в этническом стиле и иероглиф майя, обозначающий воду. Это – первая из серии подушек на индейскую тему, скоро я надеюсь вложить вторую – "Черепаха индейцев Майя".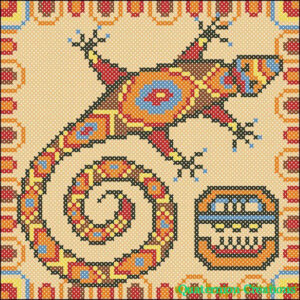 Download Mayan Lizard crosst stitch chart
The cushion on these photos is made with some very thick wool yarn: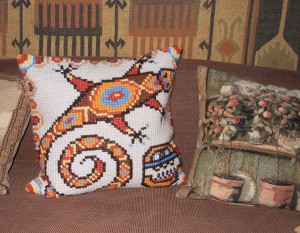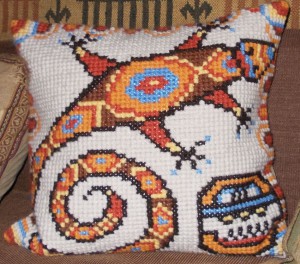 Скачать схему для вышивки Ящерица индейцев Майя
Подушка на фотографиях вышита толстой шерстью по самой крупной канве, которую мне удалось найти (канва Гамма).