A tribute to Azumanga Daioh anime series: two charts depicting Neko Coneko – white cat with a white kitten on its head. I made two versions of this chart – a bigger one (only cross stitches) and a smaller one (cross and back stitches).
Bigger neko-coneko: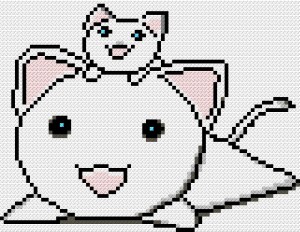 > Download Neko Coneko cross stitch chart
Stitch count: 80W x 62H
Colors: 7
Эта схема понравится всем любителям аниме, а особенно сериала "Адзуманга". Точнее, сегодня я предлагаю вам две схемы, сделанные по одному и тому же рисунку: "нэко-конэко", белая кошка с белым котенком. Первая схема чуть больше размером и вышивается только счетным крестом, а вторая совсем маленькая и вышивается крестиком и стежками "назад иголку".
Большая схема "Кошка с котенком":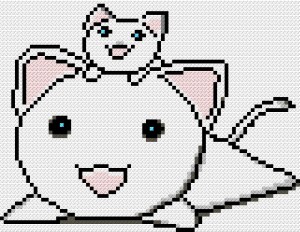 > Скачать схему для вышивки крестом "Кошка с котенком"
Размер: 80 x 62 крестиков
Цвета: 7

Kawai! Check out more original cat cross stitch patterns on Happy Stitch 🙂
Smaller neko coneko (beginner-friendly):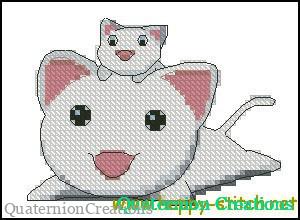 > Download Neko Coneko small cross stitch chart
Stitch count: 51W x 38H
Colors: 8
Ну разве не прелесть? Посмотрите и другие авторские схемы для вышивки с котами в Радости рукоделия 🙂
Маленькая схема "Кошка с котенком" (подойдет начинающим):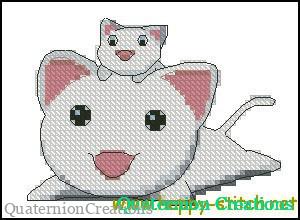 > Скачать маленькую схему для вышивки крестом "Кошка с котенком"
Размер: 51 x 38 крестиков
Цвета: 8