Would you prefer bell pepper over chili or vice versa? No matter what you choose, this cross stitch cushion chart will look great on your kitchen 🙂
"Pepper crazy" cushion pattern is the third pattern in my "veggies" series along with Avocado and Pumpkin. Enjoy!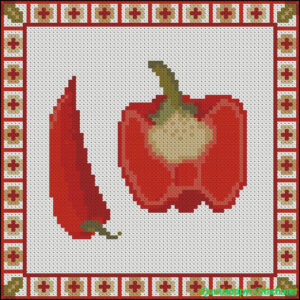 ! Download free Pepper crazy cross stitch pattern
Stitch count: 79w x 79h
Colors: 10
Did you know? Botanically bell peppers are not vegetables but fruits 🙂Что бы вы не предпочитали: сладкий болгарский перец или острый чили (или оба вместе), подушка "Добавь перчика!" обязательно придаст остроты вашей кухне 🙂 Это – третья подушка из "овощной" серии, начатой авокадо и тыковкой.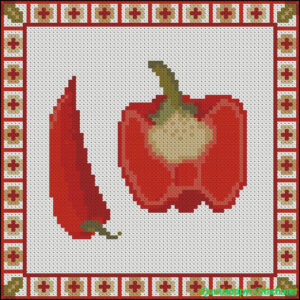 ! Скачайте бесплатно схему для вышивки подушки крестом 'Добавь перчика!'
Размер: 79 x 79 крестиков
Цвета: 10
Вам понравилась эта схема? Напишите мне комментарий и поделитесь ссылкой с друзьями в социальных сетях 🙂