According to the Chinese Zodiac the year 2013 will be the Year of the Water Snake. If you wish to stitch a New Year present with a snake symbol on it – keep up with my blog, because today I will start a snake series of cross stitch charts 🙂
If you are raised in western culture, then you may have some prejudice for snakes. But in the Eastern tradition snake is s symbol of wisdom and gracefulness. It is said, the the people, born on the year of the Snake, are good communicators and make right decisions in right times. They also love art, books, photography and fine food.
Here is a little pattern with a stylized laughing snake for a start.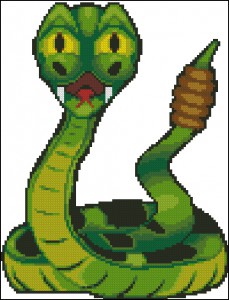 Е
Stitch count: 100W x 131H
Colors: 14
> Download Rattle snake free cross stitch chart