The second rune in runic cross stitch patterns series is Fehu, or the Cattle, the symbol of wealth and prosperity. This rune is the first Futhark rune and also its last one. In a wider sense Fehu can also mean emotional gain or a better reputation.
Fehu can protect your valuable things and feelings, grant wealth and fulfill you wishes, but you have to be responsible and be ready to pay the price of your dreams (the mystical Price is the second meaning of Fehu). In the pattern for the rune I made apple leaves and fruits in the upper corners as a farther symbol of prosperity.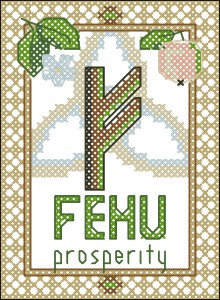 (click more to see the download link) Вторая руна в серии вышивок с рунами Футарка и, по совместительству первая и замыкающая его руна: Феху, которая дословно означает домашний скот, а в руническом смысле – достаток, в первую очередь финансовый. Впрочем, Феху может быть и символом духовного достатка, достижений, романтических встреч и усиления положения в обществе.
Эта руна помогает созидать и грамотно использовать внутренние ресурсы; сохраняет и защищает ценности и отношения. Но будьте осторожны в погоне за достатоком, Феху не терпит алчности: ведь второе её значение – это цена, которую мы все платим за исполнение своих желаний.
Чтобы подчеркнуть значение "материальный достаток", я поместила в уголки рамки листья, цветок и плод яблони. Почему? Наверное, потому что в наших широтах осенью именно яблоня – символ "полной чаши" , посмотрите, как прогибаются ветки под тяжестью яблок.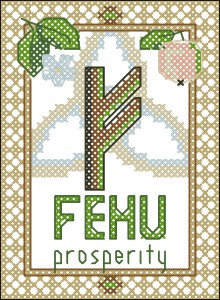 (нажмите "далее…" , чтобы увидеть ссылку для скачивания)
> Download Fehu rune cross stitch chart
Same chart in ZIP archive Fehu (the prosperity) rune
Here is the example of how the embroidery will look in real life. Please note, that the colors in the original design are different (I lazily made it with the thread remains I had at hand. For one, the apple flower is too light here.)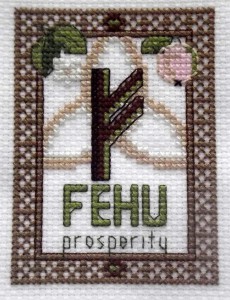 This chart will not only make a good present, but is also quite easy to cross stich even for a beginner.
Stitch count: 36w x 49h, 8 colors
> Скачать схему для вышивки "Руна Феху (достаток)"
А вот что получится в готовом варианте. Обратите внимание, что цвета вышивки на фотографии не соответствуют реальным цветам на схеме (просто я взяла остатки тех нитей, которые уже были в доме). Вышивка получается небольшая и аккуратная, вышивается легко – так что смело дерзайте, если вы только начинаете.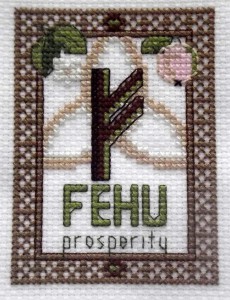 Размер: 36 x 49 крестиков, 8 цветов