Today I will continue the series of inspirational runic cross stitch patterns (see Fehu rune and Kenaz rune patterns).
The Tiwaz rune has several symbolic meanings, among them justice, self-sacrifice and altruism. It is the rune of Thor (Tyr) – the one-handed god of war, whom the world best knows from Marvel comic books. Thor is not only the war god, but much more the god of Justice (the Norse believed that sometimes justice can be achieved only through battle). The legend says that Thor sacrificed his right hand to bind Fenris (the wolf that is said to bring the end of the world).
This small pattern is easy to stitch even if you are a beginner.
Stitch count: 36W x 49H
Colors: 8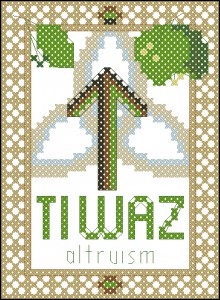 Free for a limited time only – until Jan, 2020
Altruism and self-sacrifice for a greater cause are the main meanings of Tiwaz. It is the rune that gives you strong will, courage and determination. In return it will ask you to bear all the responsibility for your choice. Tiwaz will also help you in sports and combat and will heal your wounds.
Every rune in my runic series has a symbolic tree, I choose the Linden as a symbol for Tiwaz .