It's winter again making the world outside my window quite cold and very snowy. And though the picture there is not idyllic in any way, I decided to put some additional joy into the holiday season. Today's free cross stitch pattern is a snow scenery with big snow covered tree and a simple thatched cottage.
The pattern is moderately big and is not recommended for beginners.
Stitch count: 150 x 100, 28 colors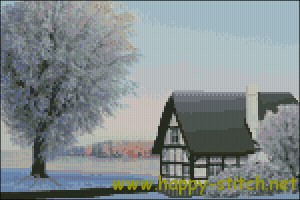 Download free Snow scenery cross stitch pattern
Looking for Christmas cross stitch charts?
Christmas pack of cross stitch patterns
Christmas pack of small patterns – 2
I also have a little something for the coming year of the snake: К праздничному сезону практически вся Россия мерзнет и покрывается снегом. И хотя вид у меня за окном (думаю, и у вас тоже) не такой идиллический, как на картинке, всё равно – пейзаж с коттеджем и заснеженным деревом поднимает настроение и наводит на предновогодние мысли.
Итак, сегодняшняя вышивка называется "Снежный домик". Довольно большая, размер: 150 x 100 крестиков и 28 цветов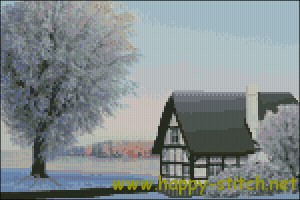 Скачать схему для вышивки крестом "Зимний домик"
Как всегда, скачать эту вышивку можно совершенно бесплатно, но вы можете сделать мне приятное и написать "спасибо" в комментариях.
Ищете что-то к Новому году?
Четыре небольших схемы для Нового Года
Новогодние орнаменты — 2
А еще в радости рукоделия найдутся схемы к восточному году Змеи:
Ethnic snake cross stitch cushion pattern
Photorealistic green snake cross stitch design
Cartoon Rattle snake сross stitch pattern
Inspire me by your comments! There more inspiration I get the more beautiful free cross stitch patterns you can download from this blog 🙂
Схема для вышивки подушки «Этническая змея»
Схема для вышивки крестом «Фото-змея»
Схема для вышивки «Мультяшная Змея»