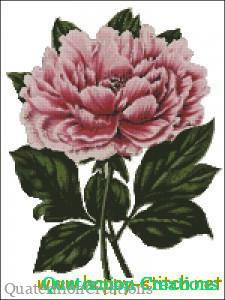 The peony is one of the most beautiful flowers in the world ( I personally prefer it even over roses). It is not only one of the national symbols of China (which is widely known), but also the state flower of Indiana.
This cross stitch pattern is based on a vintage (probably Victorian) painting of a peony. I tried my best to conserve the vintage feeling of the source.
The pattern is relatively big and uses a lot of colors, so I would not recommend it for beginners. If you are a beginner take a look at other flower cross stitch patterns or for charts tagged "beginners".
Stitch count: 148 x 183 H
Colors: 27
Size: 14 Count, 26.13w X 33.20h cm
Click "Add to cart" to download free pattern from the store.