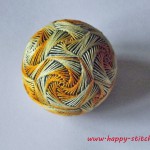 A swirl is one of the advanced temari stitches (patterns). This green and yellow temari ball is made using only swirls (find a complete tutorial on temarikai.com). I really enjoyed making this one: the way the swirls develop with each stitch is nearly magical.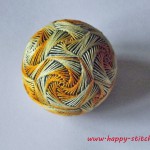 Спираль (или "паутинка", как её ещё называют) – это более сложный узор, чем "веретено" или "квадраты". Но при вышивании его получаешь удивительное удовольствие, наблюдая, как отдельные стежки закручиваются в магический узор. Тэмари на этой фотографии сделан только при помощи спиралей, никакого другого узора я не использовала. Больше фото под катом:

One of my friends visited this website and asked, whether I make temari as cat toys. You can imagine what I answered knowing that each mari takes a couple of days of hard work and fine stitching 🙂 It is much more accurate to say that I use the cat to make a great background for my temaris.
Кто-то из моих друзей недавно зашел на этот сайт, долго смотрел картинки с тэмари, а после спросил: "Это что, игрушки для кота?" Было трудно ответить что-то определенное, особенно учитывая тот факт, что на каждый шарик я трачу пару-тройку дней упорной работы… А потом я поняла, что нет шарики для кота, а кот для них – ведь из него получается самый лучший фон для фотографий 🙂