There's something magical about doors, as if sometimes a door is a gate to another world or dimension. The most beautiful doors that I've seen so far were in Tunisia and in Ireland. Tunisian doors are usually deep blue in color and covered with ornaments or carvings, while Irish doors like to be on the bright side and make an amazing contrast to green-and-gray reality around them.
Anyway, today's chart is yet another door, straight from the Italian province of Tuscany (the one with great olive oil and even better wine). The door itself may be quite common, but I love the flowers around in and lots of different greens in the overall picture.
A Door in Tuscany cross stitch chart
Stitch count: 109 x 109 stitches, 23 colors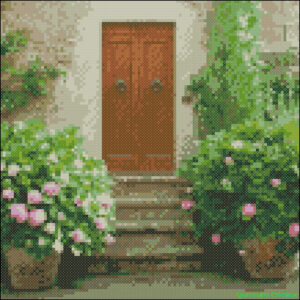 Если вам уже надоела только что начавшаяся зима – и даже не столько холодная погода, сколько отсутствие солнца и любых цветов, кроме белого, серого и черного, то я хочу вас порадовать. Схема, которую я сегодня сделала для вас, внесет немного лета в суровую зимнюю реальность, ведь основная часть изображенного на ней – это деревянная дверь и два горшка с розовыми цветами и буйной зеленью.
Схема для вышивки крестом "Итальянская идиллия"
Размер: 109 x 109 крестиков, 23 цвета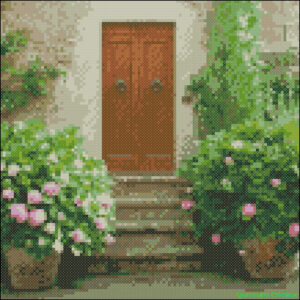 ! Download free 'A Door in Tuscany' cross stitch chart
By the way, I would like to thank the author of the original photo (whoever he/she is) ! 🙂

! скачать бесплатно схему для вышивки крестом "Итальянская идиллия"
В дверях есть что-то магическое – иногда кажется, что они ведут в другие, неизведанные миры… Если вы тоже любите изображения интересных дверей, то не забудьте посмотреть другую мою схему на ту же тему – "Тунисская дверь".