A big-eyed cat on this pattern is an addition to my growing collection of black silhouetted charts. Ah yes, I promise, that I will do something more colorful next time 🙂 But as for today – enjoy this tribute to the past Halloween.
Black big-eyed cat silhouette cross stitch pattern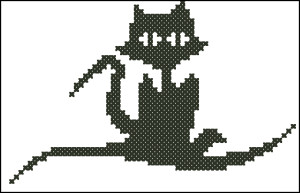 Глазастый котик на ветке дерева – простая и легкая схема для вышивки для всех любителей кошек (как я 🙂 ) Готовая вышивка станет отлчиным украшением интерьера или хорошим подарком знакомой кошатнице.
Схема для вышивки "Глазастый кот"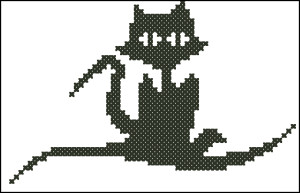 Download free Cat silhoette cross stitch pattern
Good news for cat-lovers: I have more cats, browse the 'cats' tag!
Скачать бесплатно схему для вышивки "Глазастый кот"
Схема – черно-белая, для вышивки понадобится мулине только черного цвета.
Ищете еще больше котов? Смотрите тег "коты" – у меня их предостаточно 🙂