There is something I'd like to ask you all today 🙂 Which series of charts do you like more: runic charts or Fairy alphabet? Please answer in comments, so I'll know what to draw first.
Anyway, here is a chart for all who need an angel to help them get through the winter season 🙂 Let this nice blue angel help you with everything! I
wish to make a series of different angel charts this winter, and this will be the first of them.
Blue angel cross stitch chart
Stitch count: 95 x 66 stitches, 12 colors.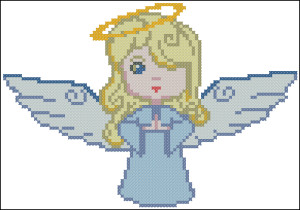 Рождество и Новый Год – это волшебные праздники, поэтому наверное неудивительно, что меян потянуло делать схемы с ангелами. Этой зимой я планирую сделать несколько разных ангелов, и сегодня начну с симпатичного ангелочка в сине-голубой гамме.
Схема для вышивки "Ангел в голубом цвете"
Размер: 95 x 66 крестиков, 12 цветов.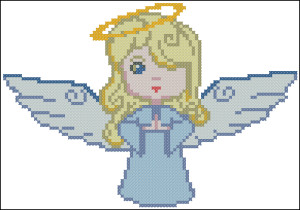 Download free original Blue angel cross stitch chart
And for all my faithful readers – sorry for not posting this chart in my usual time at Tuesday 🙂 I will make up for it!
Скачать бесплатно авторскую схему для вышивки крестом "Ангел в голубом цвете"
И напоследок хочу попросить прощения у всех моих постоянных читателей, которые ждали новую схему во вторник, как обычно. Обещаю, что дальше всё будет по графику! Ж)