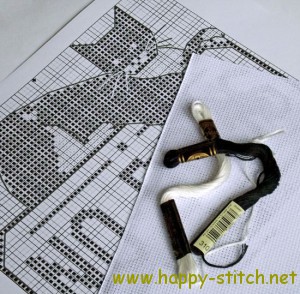 The choice of a design is very important for somebody making first steps in the art of embroidery. If you are only learning to embroider, start with a relatively simple pattern. If the project turns out to be too complicated and hard to accomplish, it may remain unfinished, which is disheartening and discouraging. After such an experience, you may lose interest in embroidery for a long time.
The best size for a beginner is 15 by 15 cm (5.5 by 5.5 in), that is, no more than 60 by 60 stitches. Assessing the complexity of a design is not an easy task in itself. A simple pattern should not contain many details. Also, look for the number of colours and their shades. Of course, shades melting into one another make the picture more natural and beautiful, but the work in this case will be more difficult. It is best to choose a pattern with contrasting colors.
Same as with the details, there should not be too many colours in the design. We recommend beginning with charts with large parts of the same colour. These may be pictures of fruits, simple landscapes or fairytale characters.
Read carefully the description of your pattern. Some works involve several techniques. Since what you need is cross stitch, choose the pattern that has only this stitch type. If the pattern has parts made by other stitch types such as satin stitch, it should be saved for later, when you have more experience.
At the beginning, errors are inevitable. So, don't choose the picture in which elements have strictly defined places. For example, making a portrait, in case of mistake you'll have to undo the whole work and begin anew, while a picture of a bunch of flowers allows for improvisation.
A good solution for beginners is an embroidery kit. Such kit consists of canvas, a pattern, a picture of the complete work, a needle and threads. Sometimes the complexity level is given on the package. Working with a kit, you do not need to choose necessary colours and calculate the thread length required.