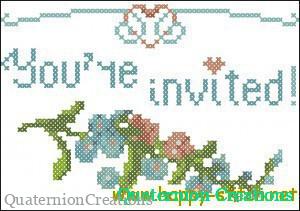 DIY weddings are considered very trendy this year, or so they say 🙂 You can make yourself a wedding dress or a garter, or surprise your guests even more with a cross stitched invitation.
A pattern to make a hand-made invitation for that perfect wedding. Blue and pink forget-me-nots symbolize faithful and true love.
Stitch count: 68w X 45h Stitches, 10 colors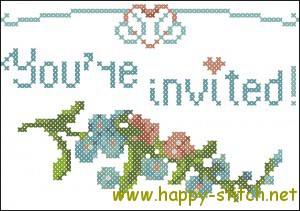 Хотите удивить гостей на своей свадьбе? Попробуйте сделатьвот такие вышитые приглашения, которые сразят их раньше, чем они доберутся до самого торжества! Букет из незабудок символизирует верную и долгую любовь.
Вы можете написать над букетом любой текст или имена жениха и невесты.
Размер вышивки: 68 х 45 крестиков, 10 цветов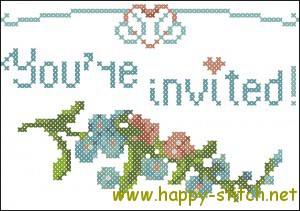 ! Download Wedding invitation cross stitch chart
You're in search for flower patterns? Check out the Flowers category for more of my charts!
! Скачать схему для вышивки приглашения на свадьбу
Больше цветочных схем в категории Цветы!