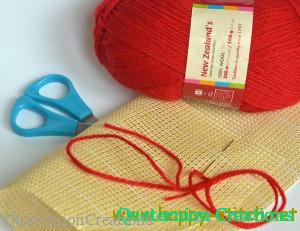 To show that cross stitching is really easy, here is the a small photo-tutorial on how to do it. (You may also want to take a look at cross stitching tips beforehand.)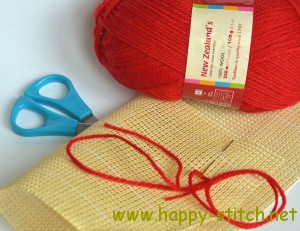 Materials: I used thick Aida canvas and wool in order to make stitches more contrast and thus better looking on pictures. But everything written applies to smaller canvases and thread as well. I strongly recommend using Aida canvas for your first cross stitching projects, because it is already marked into squares.
One cross stitch.
To make your first cross stitch choose any square on the fabric and bring your needle up from the wrong side in it's lower left corner. Leave a tail of 2 cm (1 inch) on the wrong side and bring the needle back through the upper right corner. Now you have a diagonal stitch – a half stitch. Half stitches are used in tapestries and as additional stitches in other needlework.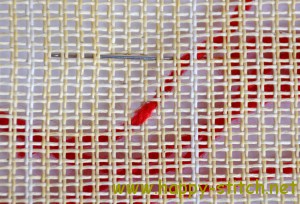 Bring the needle up once again through the lower right corner. Turn the canvas and secure the tail of your thread under the resulting vertical stitch on the wrong side.
Return to the right side of the canvas and go back down through the upper left corner. Now you should have a cross on the right side and one vertical stitch on the wrong side of your work.
Row of cross stitches.
In easier patterns you usually have to make a row or a block of cross stitches of the same color. In that case it is much easier to make first a row of half stitches, securing the tail of your thread tightly under vertical stitches on the back side: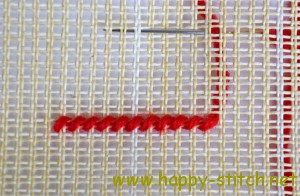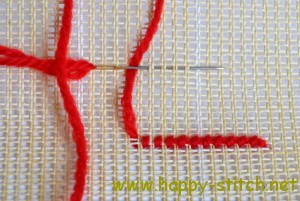 After that move back, making cross stitches.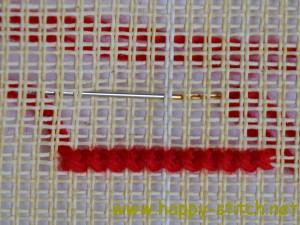 Finish the row securing the thread under double vertical stitches on the wrong side.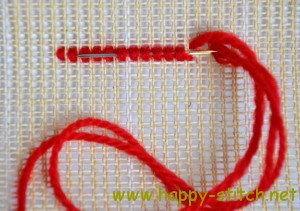 A finished work looks like this from the wrong side. Note the places where the thread tails are secured.