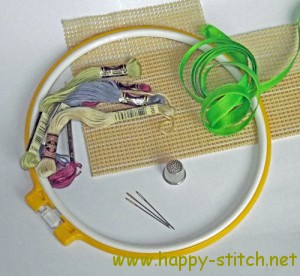 The art of cross stitching is one of the most popular hobbies in the world. It is an easy stitch to master but using it you can create beautiful designs to decorate all sorts of items for your family and home. And you'll have fun doing it!
Cross stitching is an easy hobby in many ways. First, it is an easy technique; second, you don't need many things to start embroidering with it. What you will need is primarily motivation (a quite necessary component), and also an embroiderers hoop, the fabric, threads, needles, and a pattern. Using needle threader, special scissors and thimble is not necessary but convenient. We recommend purchasing all accessories in advance, and an original pattern for cross stitching you can find at this website.
The best fabric to use for beginners is canvas. It comes in different colours, with or without tacking, with large, medium or small grids. The higher the grid number, the denser the canvas. The most popular canvas type is Aida. More intricate designs are usually done on Aida No.18, while for beginners we recommend Aida No.14.
The embroiderers hoop helps to stretch the fabric and keep the stitches even.
Cross stitching requires special embroidery threads. They can be of different quality, which determine the ultimate result. Good-quality threads are more fun to work with and the design comes out better-looking and more professional. The threads come in a wide variety of colours. Check your chosen design pattern carefully for the colours you'll actually need. To make things easier, you could buy an organizer to keep your threads and note their reference numbers. Embroidery organizer is a cardboard box with perforations near the edges, which will help you to keep your threads in order and always find the right colour.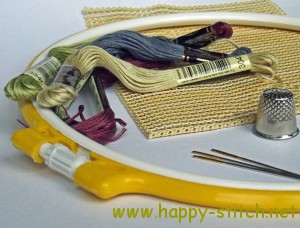 The needle used for cross stitch is a round-ended needle with a wider eye than a sewing needle. The higher the number, the finer the needle. The needle size varies according to the weft. For example, embroidery needles no. 22, 24, 26 are suitable for canvas no. 14. Sometimes a needle threader would be handy, especially when you need to thread two or three threads together.
You will also need small pointed scissors that you will use only for your embroidery. To protect your middle finger, use a thimble.
Now, when you have assembled everything you'll need, the fun part starts. You can begin embroidering!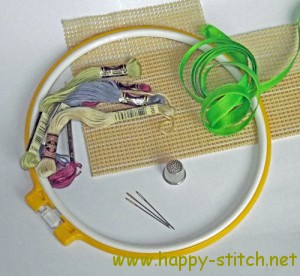 Сейчас уже мало кто занимается рукоделием по необходимости. Это хобби, и оно должно приносить удовлетворение. А чтобы работать было приятно, начинающей вышивальщице понадобятся некоторые приспособления, основа для вышивки, схемы, нитки и, конечно же, навыки и знание техники вышивания. Со временем мастерство будет повышаться и опыт придет. Чтобы это произошло быстрее, воспользуйтесь советами для начинающих.
Итак, для работы вам понадобятся: желание (без него никак нельзя), пяльцы, материал для основы, нитки для вышивания, игла, ножницы и схема. Авторскую схему для вышивания крестиком вы можете скачать на нашем сайте, все остальное надо будет купить.
Лучшей основой для вышивания является канва. Она бывает различного цвета, с разметкой или без нее, с крупной, средней и мелкой клеткой. Чем выше номер клетки, тем плотнее канва. Наиболее популярна у вышивальщиц канва Aida (Аида). Сложные композиции обычно выполняют на канве Aida №18, учиться же лучше на Aida №14.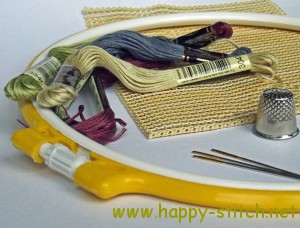 Для вышивания используют специальные нитки – мулине. Они бывают разного качества, от которого и зависит конечный результат. Хорошими нитками и работать приятно, и картина получается красивой и более профессиональной. Так как вышивка популярна во многих странах, то и нитки для вышивания производятся и в Европе, и в Азии, и в Америке. Начинающей вышивальщице можно посоветовать приобрести нитки китайского производства. Они представлены широкой цветовой гаммой и прекрасно ложатся на ткань. Неплохо показали себя и нитки российских производителей, но для больших и профессиональных композиций лучше брать мулине DMC, так как у отечественных ниток номер не всегда в точности соответствует оттенку.
Для вышивания крестиком по канве используют иглы с тупым кончиком (вышивальные иглы). Игла не должна прокалывать ткань, ее задача – раздвинуть нити основы. Номер иглы подбирается в зависимости от номера канвы. Например, для основы Aida №14 подойдут вышивальные иглы № 22, 24, 26.
Кроме обязательных предметов, перечисленных выше, вам могут пригодиться наперсток и специальный органайзер для мулине.