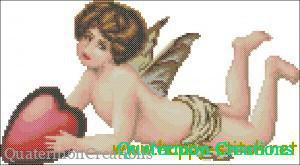 I'm still not over the coming Valentine's day, so today's free cross stitch pattern will again be on love, romance,and so forth. A cupid on this chart is holding somebody's heart – maybe even mine 🙂 Or yours?
The pattern is relatively big, so I wouldn't recommend it for beginners. If you started cross-stitching only recently, try my previous Valentine's day pattern (The Heart flower), or choose any pattern tagged 'beginners'.
Stitch count: 145w x 80h stitches, 20 colors.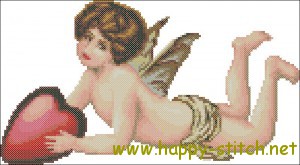 ! Download free Valentine's cupid and heart cross stitch pattern
And yes, I enjoy your comments and suggestions 🙂Я все ещё погружена в наступающий День святого Валентина, поэтому, как и на прошлой неделе, сегодня вас ждет тематическая схема для вышивки. Да-да, любовь, морковь, сердца и всё в этом же духе.
Итак, на сегодняшней схеме-валентинке Купидон несет в руках чье-то алое сердце. Схема довольно большая, поэтому совсем начинающим я бы её не рекомендовала. Если вы только учитесь вышивать крестиком, то посмотрите предыдущую валентинку – она меньше и по размеру, и по количеству цветов в узоре.
Размер: 145 x 80 крестиков, 20 цветов.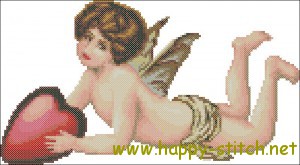 ! Скачать бесплатно схему для вышивки крестом "Купидон и сердце"
Мечтаете об особенной схеме для вышивки? Пишите тему или идею в комментариях и я постараюсь её воплотить!