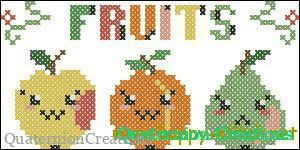 Simple fruit pattern for your kitchen or playroom: Mr. Apple, Mr. Orange and Mr. Pear in a cute (kawaii) style. I'm not exactly sure, why Mr. Pear is not smiling along with his friends, is it because he is still green?
You can stitch the chart as is or use any of the fruits for a separate embroidery. This chart is suitable for beginners.
Stitch count: 60w x 30h stitches, 10 colors (approx. 11 x 5.5 cm on #14 canvas)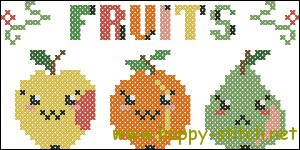 Click more to see the download link. >> Схема для вышивки крестиком "Весёлые фрукты" родилась сегодня весьма спонтанно (вообще-то я планировала делать что-то другое, но получились именно они). Итак, представляю вам высёлую банду: мистер Яблоко, мистер Апельсин и мистер Груша 🙂
Схема небольшая, цветов использовано мало, поэтому подойдет начинающим или детям. Можно вышить её целиком, как на картинке, а можно вышивать фрукты по отдельности.
Размер: 60 x 30 крестиков, 10 цветов (готовый размер – примерно 11 x 5.5 см на канве #14)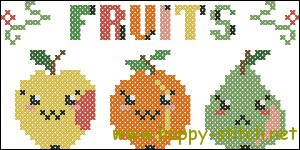 Нажмите "далее", чтобы увидеть ссылку для скачивания >>
! Download Cute fruits cross stitch pattern