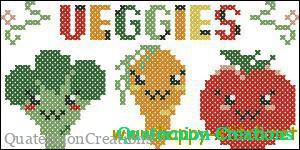 Cute veggies pattern is following the culinary theme started with Herbs chart and Cute fruits chart. I noticed that a lot of people liked these charts, and if you were among them I am sure that you will like Cute veggies as well.
The pattern is very easy and good for beginners and unexperienced stitchers.
Cute Veggies cross stitch chart
Stitch count: 60w x 30h stitches, 8 colors (approx. 11 x 5.5 cm on #14 canvas)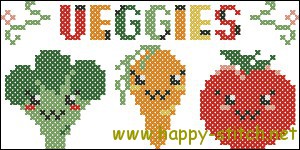 ! Download free Cute veggies cross stitch chart
Please welcome Mr. Broccoli, Mr. Tomato and Mr. Carrot! Though Mr. Broccoli is smiling, but deep inside he thinks, Nobody likes me. Press like to let him know it isn't true!
Did you know? Tomato is technically a fruit, as well as avocado, and watermelons are botanically berries! I wish I never knew that 🙂 Together with broccoli, tomatoes are among the best veggies for your health.Еще одна схема для вышивки в мультипликационном стиле – Смешные овощи . Последнее время у меня довольно много кухонно-кулинарных вышивок: и эта, и Травы с прошлой недели, и Веселые фрукты – уж не знаю, с чем это может быть связано? 🙂
Из сегодняшней троицы – Помидора, Брокколи и Морковки – первые двое сразу пришли мне на ум, а вот третий никак не придумывался… На этом место могла быть Картофелина или Кабачок (или даже Тыква), но в результате свое место заняла именно Морковка. А какие овощи предпочитаете вы?
Схема простая, цветов в ней немного, а это значит, что она хорошо подойдет начинающим вышивальщицам.
Схема для вышивки "Смешные овощи"
Размер: 60 x 30 крестиков, 8 цветов (примерно 11 x 5.5 см на канве #14)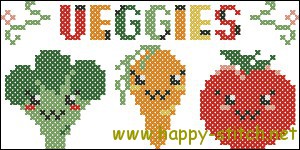 ! Скачать бесплатно схему для вышивки "Смешные овощи"
Жмите лайк и делитесь этой записью со своими друзьями!