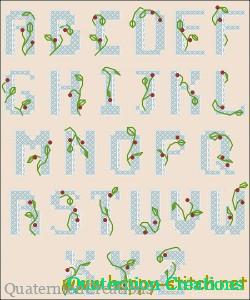 Just a simple alphabet. Every letter is decorated with back-stitched green leaves and French knot red berries. The white-green-red palette is inspired by Christmas season ornaments (just don't ask why I make something Christmas-inspired in June!), so you can use the letters from this pattern for holiday presents or cards.
Stitch count: 50 x 60 stitches (whole design), 6 x 9 stitches (one letter); 4 colors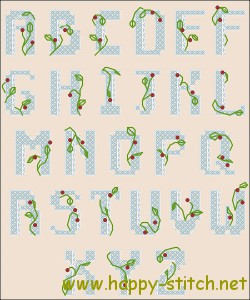 Латинский алфавит в новогоднем стиле: голубые буквы украшены зелеными побегами (шов "назад иголку") и красными ягодками (французские узелки).
Размеры: 50 х 60 крестиков (вся вышивка), 6 х 9 крестиков (одна буква); 4 цвета.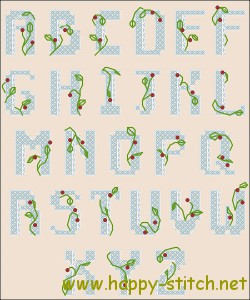 Download Festive cross stitch alphabet