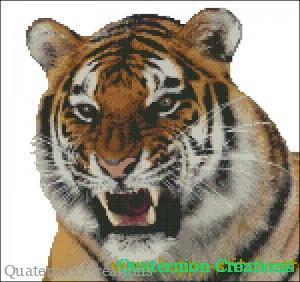 Tyger! Tyger! burning bright
In the forest of the night
What immortal hand or eye
Could frame thy fearful symmetry?
William Blake
Oh well, it seems the kitty doesn't want belly rubs right now 🙂 But he still stays one of my favorite wild animals – so today I made a Growling Tiger pattern out of a photo found somewhere on the Internet. I did my best, but the chart still uses 50 colors, so I wouldn't recommend it for beginners or for impatient crafters like myself.
Stitch count: 150w x 141h , 50 colors.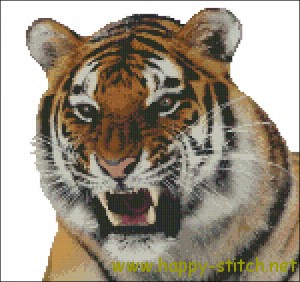 ! Download Growling Tiger cross stitch pattern
Did you know? Contrary to the popular belief, the tiger is the biggest wild cat, even bigger than the lion.Тигр, Тигр, жгучий страх,
Ты горишь в ночных лесах.
Чей бессмертный взор, любя,
Создал страшного тебя?
Уильям Блейк (перевод К. Бальмонта)
Не знаю, чем так недоволен этой замечательный большой полосатый кот на исходной фотографии 🙂 Надеюсь, не тем, что я посмела нарушить его царственность и переделать его в схему для вышивки? В любом случае, сегодняшняя схема не зря называется "Рычащий тигр". Схема получилась большая и многоцветная, поэтому я не рекомендую её новичкам и нетерпеливым рукодельницам.
Размер: 150 x 141 крестиков , 50 цветов.