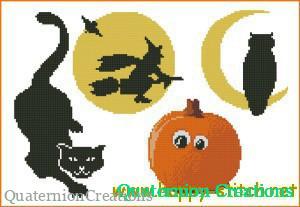 I'm sure it's not too late to make something special for Halloween! 🙂 Here is yet another pack of four small Halloween-ish xstitch patterns. All patterns in this pack are nice, small and very easy, not more that 100 stitches in size and 8 colors.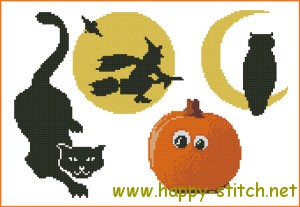 Уже готовитесь к Хеллоуину? Тогда в помощь вам – свежий набор из четырех небольших тематических схем к этому празднику. Все схемы очень простые, не больше 100 крестиков размером, в каждой – не больше 8 контрастных цветов.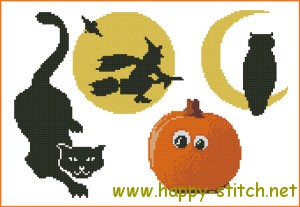 The pack contains:
Crouching black cat pattern (one color only!)
Funny pumpkin pattern
Flying witch pattern
Owl on the moon pattern
Download free Small Halloween charts xstitch pack >>> Downloading my charts? Don't forget to say something in comments! 🙂
Looking for more? Check out these posts:
Halloween witch cross stitch pattern – a bigger and more complicated chart
Halloween cross stitch patterns pack (1) – last years' pack of small Halloween patterns

В наборе:
Схема "Крадущийся черный кот" (используется только один цвет!)
Схема "Смешная тыква"
Схема "Ведьма на метле"
Схема "Силуэт совы"
Скачать бесплатно авторский набор" Маленькие схемы к Хеллоуину (часть 2)" >>> Скачиваете этот набор? Скажите автору (то есть, мне) спасибо в комментариях!
Больше схем к Хеллоуину:
Ведьмочка – полноразмерная и в меру сложная авторская схема для вышивки.
Набор из схем для Хеллоуина – 1 – ещё четыре несложных узора к Хеллоуину.