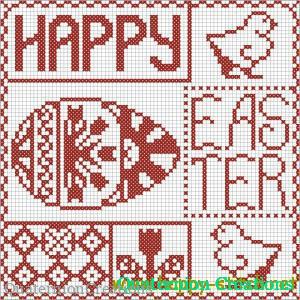 Inspired by all beautiful samplers on Pinterest: "Happy Easter" sampler (maybe not exactly a sampler, but something very similar) with easter eggs, chickens and tulips. I made it in red, but it can be embroidered with any color you like.
I never did samplers before, this one is the very first and I hope you will like it!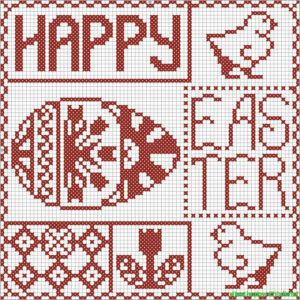 [sociallocker]Download Happy Easter cross stitch sampler[/sociallocker]
Stitch count: 80 x 80 stitches, 1 color.
Interested in Easter cross stitch patterns? Take a look at "Easter eggs" chart or browse the easter tag![:ru]Схема для вышивки "Счастливой Пасхи" (Happy Easter!) вдохновлена старинными образцами вышивки, на картинке можно найти не только узоры и надпись, но и традиционные атрибуты праздника: пасхальное яйцо, цветы и даже пару цыплят.
Схема очень простая – она состоит всего из одного цвета. Я взяла красный для наглядности, но вы можете использовать любой другой по своему усмотрению.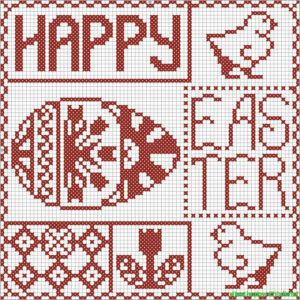 [sociallocker id="1769″]! Скачать схему для вышивки крестом "Happy Easter!"[/sociallocker]
Размер вышивки: 80 x 80 крестиков.
Понравилось? Жмите лайк и присоединяйтесь ко мне на Facebook и Twitter, чтобы сразу узнавать о всех новинках![:]