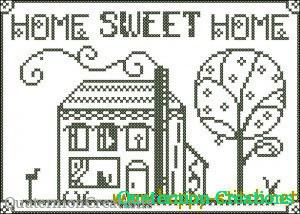 A couple of days ago I spotted that some people are searching for "home" pattern on my blog. Up until now I haven't made any patterns with homes or houses, so I hurried to make one.
Home Sweet Home cross stitch chart is made in black-and-white silhouette style. Beside the house itself I drew traditional attributes of a good home: a tree with apples/flowers, a mailbox, and a cat. ( BTW I will befriend Facebook page of the first commenter who will find the cat in this pattern 😉 )
Stitch count: 105w x 75h, 1 color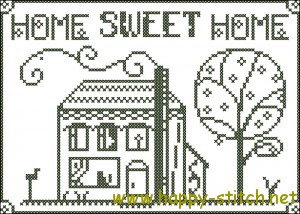 Click "more" to see the download link. Сегодня – еще одна схема в столь приглянувшейся мне в последнее время черно-белой эстетике. На этот раз я предлагаю вам силуэт традиционного дома с классической надписью "Home Sweet Home" ("Дом, милый дом").
Схема – полностью авторская, сделана и нарисована с нуля. К самому коттеджу я приложила атрибуты хорошего дома: дерево с плодами/цветами (решайте сами, что это на самом деле), почтовый ящик и, конечно же, кота. Рисунок одноцветный, его можно вышить так же или "раскрасить" любыми цветами на ваш выбор.
Размер: 105 x 75 крестиков, 1 цвет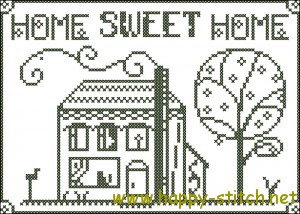 Нажмите "далее", чтобы увидеть ссылку для скачивания схемы.
! Download Home Sweet Home free cross stitch chart
! Скачать бесплатно схему для вышивки "Home Sweet Home"
Не забывайте: узнавать о новых схемах можно не только на сайте, но и на странице HappyStitch в Facebook.