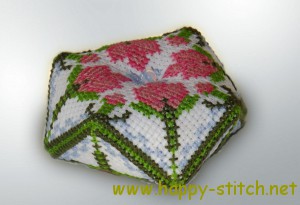 A biscornu (pronounced biss-core-new) is an eight-sided stuffed pincushion with French origins. The name literally means 'two-horned', though I found four horns on mine 🙂 It may look intricate and irregular, but in fact it's really easy to make. This photo tutorial will guide through the process step by step.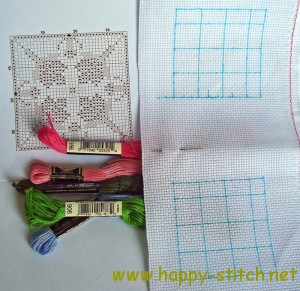 Materials. You will need:
– a square cross stitch pattern (or two if you want your biscornu to have different pictures on top and bottom). I found it easier to use motifs with even number of stitches.
– some canvas enough to stitch your pattern twice
– stuffing material (I used fiber pillow fill)
– a needle and colored thread for stitching
Stitch two square motifs of exactly the same size (the patterns may be different) and backstitch a square outline around each. Leave about 1 inch of canvas around the edges.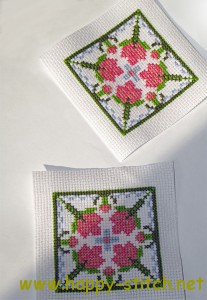 Match the center of the first motif with the corner of the second (right sides out) and whip stitch though the backstitches. It is usually recommended not to catch the canvas, only the backstitches. Keep the tension even on every side of the biscornu (it will be more difficult the more sides you stitch together). Check yourself while you stitch, the corner of one side should always match the center of the other.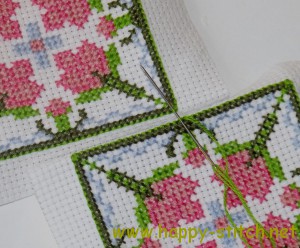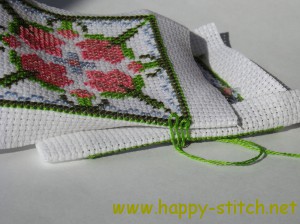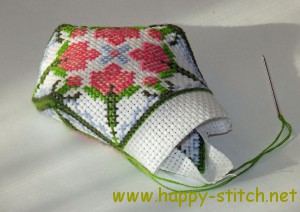 When you have only one side open, stuff the pincushion and stitch the last row of backstitches together. It will probably be the trickiest part of the whole process.
Stitch a button or a bead to the centers on each side to make a visible indent on the biscornu and to give it its amazing irregular look.