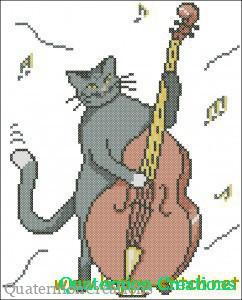 If there is something that I love more than music or craft, then it is cats without any doubt. The Jazz Cat pattern combined music, cats and crafts together 🙂 This chart of a gray bass playing cat is based on my own original drawing (actually this tom is the first one of the series of musical cats that I wanted to draw).
Stitch count: 94w x 117h Stitches, 9 colors . Ideal for beginners due to limited amount of colors and easy cartoon style.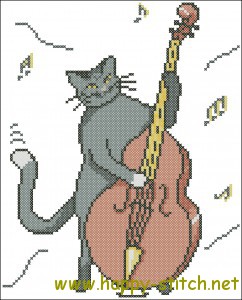 ! Download free Jazz Cat cross stitch pattern
What jazz evergreen is this tom playing? Share your opinion in comments below!В схеме для вышивки крестом "КОТрабасист" я собрала, наверное, все свои любимые темы: и кошек, и музыку, и рукоделие. Теперь я могу поделиться с вами всем сразу 🙂 Схема полностью авторская и основана на моем рисунке.
Размер: 94 x 117 крестиков, 9 цветов. Из-за небольшого количества цветов подойдет для новичков в вышивании.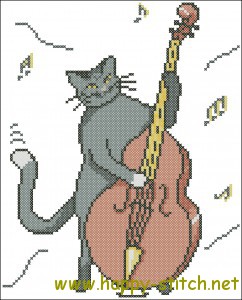 ! Скачать бесплатно схему для вышивки крестом "КОТрабасист"
Если при просмотре картинки вам приходит на ум какая-то мелодия (и вы уверены, что котик играет именно её) – пишите в комментариях!