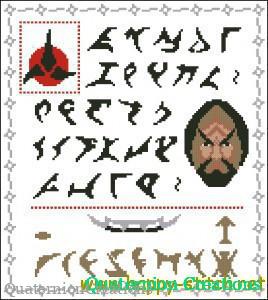 A perfectly normal sampler except that it has Klingon pIqaD alphabet and numbers 🙂
I have to admit that I haven't seen much of the original Star Trek series. But I bumped accidentally into Wikipedia article on Klingon language and was quite amazed how much effort was built into developing the Star Trek universe in whole and Klingon part of it in particular. As a lover of different languages and cultures I knew I should make something like this.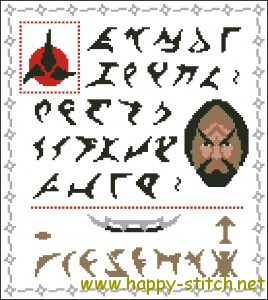 Для всех любителей сериала Стар Трек – схема для вышивки клингонского алфавита (Klingon pIqaD).
Это больше шутка, конечно, но вдохновленная не только современными продолжениями франшизы (оригинального сериала я практически не видела, к сожалению), но и тем, что клингонский язык был действительно разработан продюсерами и специалистами. Более того, в мире есть люди, которые могут на нем разговаривать!
! Download Klingon cross stitch sampler
Stitch count: 134w x 150h stitches, 7 colors
A couple of common Klingon symbols can also be seen here: the insignia and the bat'leth sword.
Did you know? The main protagonists of The Big Bang Theory series can speak Klingon.
Понятно, что ему не сравниться с языками, созданными Толкиеном для вселенной властелина колец, и всё же – кто бы мог подумать 🙂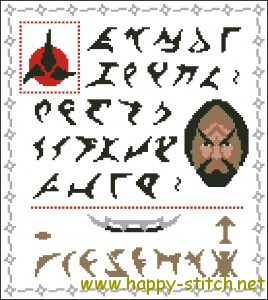 ! Скачать схему для вышивки "Клингонский алфавит"
Размер: 134 x 150 крестиков, 7 цветов
Кроме алфавита и цифт на вышивке присутствуют символ Клингона и клингонский меч.