Today's chart is a cross stitch version of a famous nursery rhyme:
Ladybug, ladybug, fly away home.
Your house is on fire;
Your children all roam.
Ladybug, Ladybug cross stitch pattern
Stitch count: 64 x 124 stitches, 5 (or 4) colors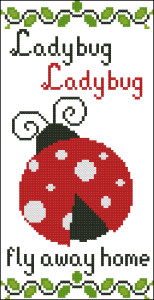 Click "More" to see the download link:
! Download Ladybug, Ladybug cross stitch chart
If you are new to my blog, just keep in mind that all patterns listed here are absolutely original and free to download, but are for personal use only.
And yes, you can surely write Ladybird instead of Ladybug 🙂