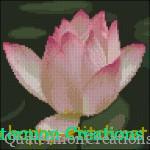 The sacred Indian lotus, or Nelumbo nucifera, is one of the most beautiful aquatic plants in the world. It is often confused with water lily (Egyptian lotus), and to be honest, before making this chart I also thought this plants came from the same family 🙂 But as far as Wikipedia told me, the only flower that can be referred to as lotus, is this one.
Lotus flower cross stitch chart
Stitch count: 96 x 96 stitches, 26 colors. Best done on dark canvas.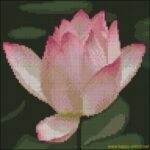 Королевский лотос – этот дивный водный цветок является национальным цветком Индии и Вьетнама. В Азии он используется для украшения храмов, и не только – лотосы часто можно встретить в прудах и других искусственных водоемах как часть садового дизайна.
Схема для вышивки "Цветок лотоса"
Размер: 96 x 96 крестиков, 26 цветов. Вышивка будет смотреть лучше, если сделать её на темной канве.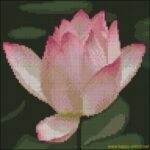 Download Lotus flower cross stitch chart
Indian lotus is (surprise!) the national flower of India and also Vietnam. It symbolizes non-attachment, purity and beauty. The Indian name for lotus is Padma.
Besides its cultural and religious uses, lotus is also cooked and eaten in many different ways. Young flowers and rootlets are pickled, dried petals make herbal tea, stems are used in salads. In cooking a lotus it is very important to use the right flower. If you can't tell water lily from a lotus, be aware, that some species of lilies contain an alkaloid that has effects of a psychedelic aphrodisiac. But my website is about needlework and not cooking, so be sure that it is completely safe to download and stitch this free lotus cross stitch pattern.

Скачать схему для вышивки "Цветок лотоса"
Мало кто знает, что в азиатской кухне лотос часто используют в пищу, причем в совершенно разных видах. Многие его части употребляют маринованными (например, молодые цветы и бутоны), стебли идут в салаты и горячие блюда, а из высушенных лепестков делают душистый чай.
Если вы тоже захотите попробовать приготовить лотос, помните, что важно не спутать его с другим очень похожим цветком: кувшинкой (её ещё называют египестким лотосом). Кувшинка несъедобна, и может вызвать галлюцинации.
Впрочем, моя схема с цветком лотоса проверена, и хотя не подходит для употребления в пищу, абсолютно безопасна. Скачивайте и вышивайте на здоровье!