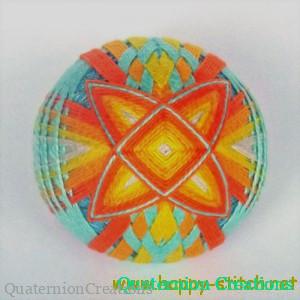 When making this temari I tried to duplicate a pattern from a temari magazine bought in Tokyo. The work was a bit hard, because I don't read Japanese, so I had to invent the stitching order on the go. To be honest, I did nor achieve the beauty and integrity of the original mari 🙂 But this one is also great.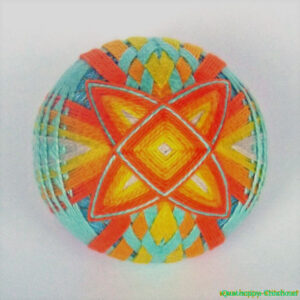 The whole pattern is madeУзор этого тэмари взят из купленного в Токио журнала. Мы купили там несколько таких журналов, и я до сих пор жалею, что не скупили все, которые были в магазине 🙂 Поскольку прочитать описание узора по-японски у меня не получилось, то пришлось придумывать последовательность выполнения прямо на ходу.
Мне не удалось достичь красоты и сбалансированной эстетики оригинала, но я все равно считаю, что получилось неплохо.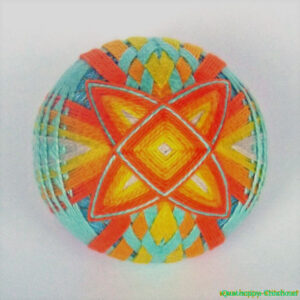 Узор построен на сочетании on C8 by interweaving spindles of different colors and sizes.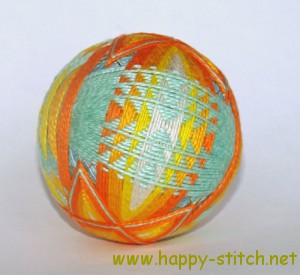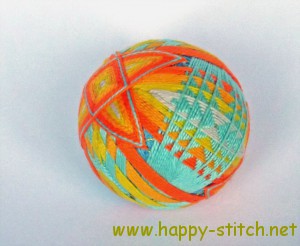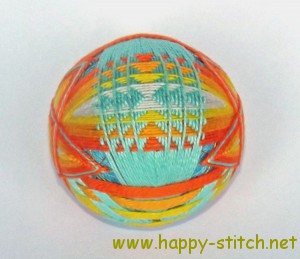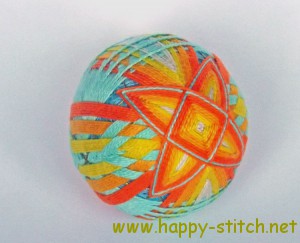 и переплетении базового узора "веретено" разных цветов и размеров. Разметка – C8.