But I feel I'm growing older
And the songs that I have sung
Echo in the distance
Like the sound
Of a windmill going 'round
I guess I'll always be
A soldier of fortune…
Todays cross stitch pattern features an old windmill standing on the seashore. I could not help of remembering the Deep Purple song from above while working on the chart, even had to turn it on on Youtube.
Old windmill cross stitch chart
Stitch count: 140 x 170 stitches, 32 colors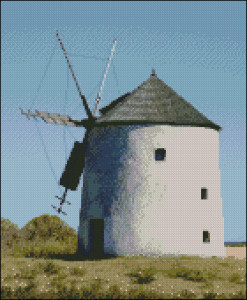 Сегодня я сделала схему для вышивки из фотографии старой белой мельницы, стоящей на берегу моря. Кстати, такой вид мельницы назвается "мельница-башня", потому что вращающийся механизм закреплен на крепкой каменной башне. Башенные мельницы были растространены в Европе с 13 вплоть до 19 века, и до сих пор сохранились (уже в качестве достопримечтальностей) во многих странах, особенно на берегах Средиземного моря.
Схема для вышивки "Старая мельница"
Размер: 140 x 170 крестиков, 32 цвета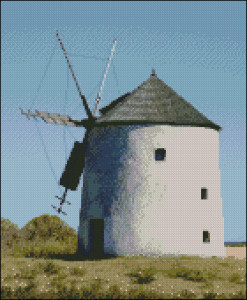 ! Download free original Old mill cross stitch pattern
The windmill on the picture is a tower mill build with masonry base. Such mills were common in Europe from 13th up to 19th century and can still be found in different places, mostly around the Mediterranean Sea. They probably are not used for their primary purpose now, but serve more as historical landmarks and museums.
Unfortunately, I do not know the origin of the photo 🙁 If you know more about this mill, let me know!
! Скачать бесплатно авторскую схему для вышивки "Старая мельница"
К сожалению, я не знаю, где именно была сделана фотография, на которой основана схема. Если вы знаете больше об изображенной мельнице – пишите!
PS. Пока я делала схему, никак не могла избавиться от крутящейся в голове песни "Soldier of fortune": помните, там строки про мельницы?
But I feel I'm growing older
And the songs that I have sung
Echo in the distance
Like the sound
Of a windmill going 'round
I guess I'll always be
A soldier of fortune…