Othala, one of the last runes in the Futark and the rune of homeland and legacy is the rune for today and the fourth rune in Quaternion Creations Runic series. As always, it is made into a small and simple cross-stich design that can make a nice decoration or a special gift.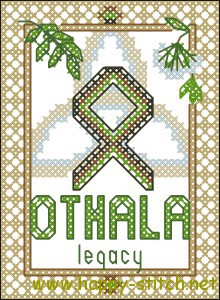 Stitch count: 36w x 49h, 7 colors
Curious how I choose the runes for making my designs? Nice and easy! A friend once presented me with a bag of runes carved in leather. When I feel like making something Nordic I simple take one random piece out of this bag. This rune gives me inspiration for the new pattern.
So today I pulled out Othala: the property. Don't confuse it with Fehu that also means wealth, but in a different way. While Fehu is a business rune of the wealth you gain by your work, Othala means property of your ancestors: something you inherit. And not only that, it also means home (and homeland): something that defines who you are and where you stand. In a more occult way it can represent your inner self. As it is said to be a rune connected with Yggdrasil, the Tree of Life, I chose ash tree as the supporting symbol on this pattern.
Present this rune to someone in need of
– Stability
– Buying or renting property
– Protecting family legacy
– Reuniting the family
There is yet another meaning to Othala that I found only in one source. The source read that this rune also means crossroads and hard decisions. If you read runes, please tell me if it is true or not. Thanks!