Last week Debbie challenged me in comments to make a chart for a pepperoni pizza. Well, it proved to be quite an experience, mostly because working with pizza images made me extremely hungry… But in the end I got so exited that made two charts instead of one. Here they are, Debbie, and I hope you'll like both!
Pepperoni pizza chart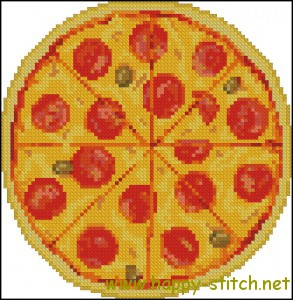 Stitch count: 84w x 86h, 16 colors
Download pepperoni pizza cross stitch pattern
Oh, and you hope you don't mind me throwing in a couple of olives 😉
Pizza slice chart
(I would like to say a big thank you to the anonymous author of the public domain image I converted into that pattern!)
Stitch count: 117w x 59h, 15 colors Схему для вышивок с пиццей попросила в комментариях одна из посетительниц блога: и раз я обещала, значит – сделала. Надо признаться, что делать вышивки с едой всегда непросто, вот и в этот раз мне всё время работы страшно хотелось съесть кусочек-другой пиццы.. Зато схем в результате получилось не одна, а целых две!
Схема вышивки "Пицца пепперони"
Классический рецепт пепперони на этой картинке я улучшила парочкой оливок.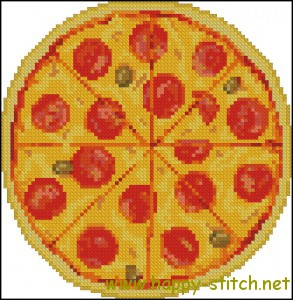 Размер: 84 x 86 крестиков, 16 цветов
Скачать схему для вышивки "Пицца пепперони"
"Кусочек пиццы"
Огромная благодарность неизвестному автору рисунка, который лег в основу этой схемы!
Размер: 117 x 59 крестиков, 15 цветов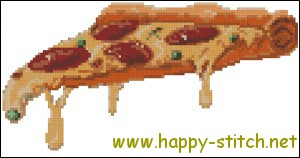 Download free pizza slice cross stitch pattern