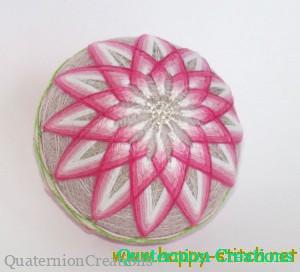 Yay! On July, 25 I'm going to visit a temari workshop organized by Japan Foundation. I'm sooo excited!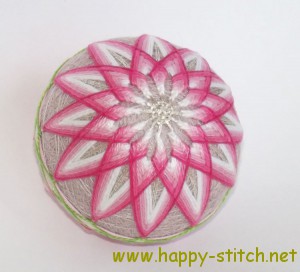 To celebrate this fact here is a gallery of my recent temari made in classical kiku (chrysanthemum) pattern. I used four different shades of pink to create the color gradient 🙂 ( Follow my Temari board on Pinterest to get regular updates and photos of temari balls I make.)
My husband says this ball is a bit dull, but i prefer the term delicate. What do you think?
Ура! Я пробилась и иду на курсы тэмари, организованные Японским фондом 🙂 Группа очень маленькая, и в прошлом году я не успела записаться, а в этом – почти опоздала. Но всё-таки успела и очень рада этому факту!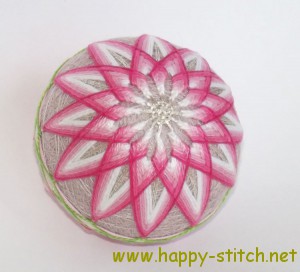 В честьэтого предлагаю вам посмотреть несколько фотографий одного из моих последних шариков, который вышит очень традиционным для тэмари узором "Хризантема". Для гладкого перехода цвета я использовала четыре оттенка розового цвета.