One more rune for all Norse-loving cross stitchers and the fifth rune in my Elder Futhark runic series. Last time I wrote a little about how I choose runes for the next pattern, so today I only want to point out that every time I draw a rune it happens to be just the right rune for my today's mood and/or situation.
So today it is Isa – the Ice, the simplest rune of Norse alphabet. This is the rune of stability and stagnation, but mostly (and what is more important) – the symbol for the potential underneath the seemingly sound surface (like living water under thick winter ice). So it means not only the period of a standstill, but also the progress you will make after it. The second meaning of Isa is clarity. When you've come to a dead-end, try to clarify your mind, strip everything needless and distracting and look at your goals once again.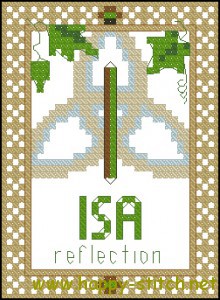 Stitch count: 36w x 49h, 7 colors
If you came across Isa, than you are either in need of contemplation and reflection, either in need of a reassurance, that the stagnant period in your life is only a step to new horizons.
Ah yes, and I chose the ivy to be the tree for Isa for no reason at all 🙂