I picked a hard rune today, and my first unconscious desire was to throw it back in the sack again and pick another one. But then again, if it came out, then I need to learn something from it.
Rune Nauthiz: the Need
Nauthiz is a sign that something goes not exactly right in your life. It is the imbalance between what you want and what you get. Being a fire rune, it is quite strong, thus symbolizing the burning pressure and desire for change. Sometimes it is compared to spindle that generates fire by friction.
Nauthiz rune cross stitch chart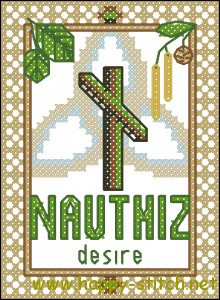 Р
Stitch count: 36 x 49 stitches, 8 colors
Nauthiz is a rune of inner frustration, the need to make your life better and your goals different. It can be quite distressful, and yet it has it's brighter side.
Fire in Nauthiz makes it full of energy. If your destiny brought you onto this rune, this means that you have to look at your life without fear and start moving. Rearrange your priorities and be honest with yourself about your goals. And remember, that Nauthiz is not only the need for something, but includes in itself the power to make it and do everything right.
Nauthiz often comes in pair with Isa, the ice rune.
The symbolic tree for this rune is alder.