Today's rune is made specially for Kelly, who motivated me to make another runic cross stitch pattern. As usual, I picked it randomly from my rune bag. Kelly, I sure hope it brings you good luck 🙂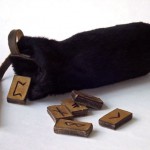 Rune Thurisaz: Protection
Thurisaz literally means the thorn, or a tree with thorns. Such trees were often planted as fences around ancient Norse villages, hence the second meaning of the rune – protection. In a more allegoric way it can also mean the thorns we keep to protect our feelings or the obstacles that keep us away from our goals.
Thurisaz rune cross stitch chart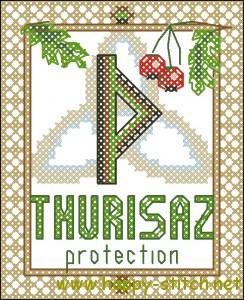 Stitch count: 40×49 stitches, 8 colors
Free Download for a limited time only – until March 2020
Thurisaz is a rune of self-control and discipline, qualities that you learn when you are overcoming yourself. You have to face and conquer something to become stronger or wiser.
This rune can:
– grant you protection in different situations
– give you strength to make the right decision
– help you overcome obstacles
Some sources name Thurisaz a symbol of male sexuality, and if it's true, then it is also a great gift for your loved husband. I haven't checked it myself yet.
The symbolic tree for this rune is a hawthorn. As a kid I loved hawthorn berries, and even the thorns could not stop me 🙂