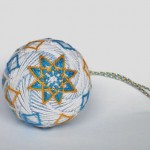 Blue, white and yellow patterns on this ball are very much alike Middle Eastern architecture and floral designs. Looking at it I think of Samarkand and it's unique mausoleums and mosques. All that and a touch of silver created through my hands the Samarkand sunrise temari.
On this temari I used uwagake chidori and swirl stitches. The marking is done with a nearly invisible thin silver thread.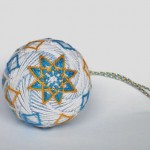 Цветочные узоры на этом шарике, в которых сочетаются синий, белый и желтый цвета, напоминают мне о среднеазиатской храмовой архитектуре, а особенно – о мавзолеях и мечетях Самарканда (их я, увы, видела только на фотографиях и картинах Верещагина).
Технические подробности: шар вышит узорами хризантема (kiku) и спираль. Разметка и окончатльная "полировка" сделаны тонкой серебряной люрексной нитью.