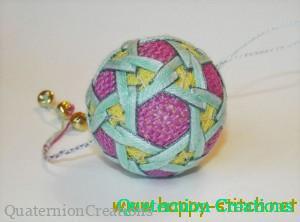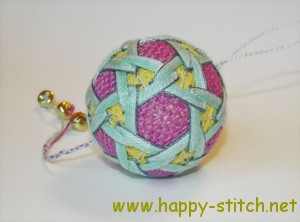 This yellow temari is stitched in blue triangles lined with turquoise metallic thread. Areas between triangles are covered in interwoven stitches. I added a hanging loop to north pole of the and a triple "tail" with jingle bells to the south pole. The same bells are used as noisemakers inside the temari core.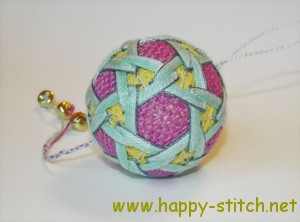 На желтом фоне этого тэмари вышиты одинаковые сцепленные друг с другом треугольники, а между ними переплетаются стежки контрастного цвета. Отделка вышита метализированной нитью бирюзового цвета.
К нижней вершине шарика пришит тройной "хвост" с неравномерными концами, на каждом конце закреплен маленький бубенчик. Такие же бубенчики спрятаны внутрь шара, поэтому при каждом движении он шуршит и звенит.