I saw this funny photo of a cat guarding his territory and instantly converted it into a small pattern. Ah yes, I love cats (as proven by all cat patterns I made 🙂 ) .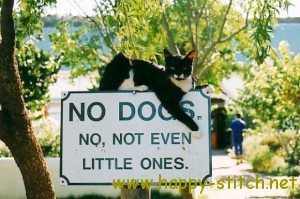 I hope you will enjoy this pattern as well. It is small and simple and uses only black and white floss (try using canvas of different color to make it even more interesting). You can also stitch different text on the sign (anything from "I love cats" to "Hello world"), for your convenience I have included in the package a printable pattern with no text.
Stitch count: 73w x 59h, 2 colors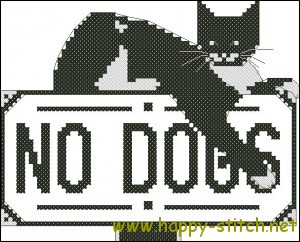 Наверное, многие видели в Интернете эту смешную фотографию с черно-белым котом, защищающим свою территорию от собак. Сегодня я выкладываю схему, сделанную по этой фотографии.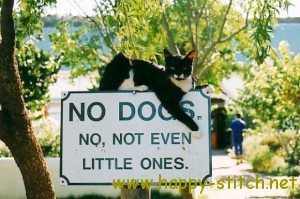 Да, признаюсь – я люблю кошек ( и вышивки с кошками тоже люблю)! Надеюсь, что и вам понравится эта черно-белая схема. А для тех, кто заходчет вышить на табличке свой текст (ведь на ней может быть что угодно) я вложила в архив дополнительную схему, на которой табличка пустая.
Размер: 73 x 59 крестиков, 2 цвета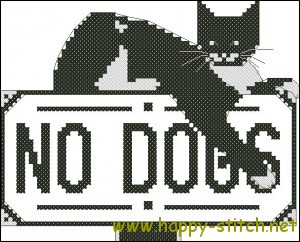 ! Download free The guardian cat cross stitch pattern
The finished embroidery (it took me just a couple of evenings, and I'm quite a slow stitcher).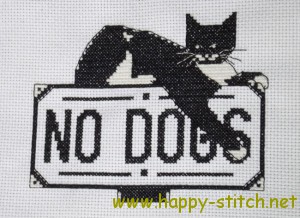 ! Скачать бесплатно схему для вышивки крестом "Кот-охранник"
Схема – простая и легкая, мне потребовалась всего пара вечеров, чтобы закончить вышивку (а я вышиваю достаточно медленно). Для более интересного эффекта можно использовать цветную канву вместо белой.