My new cross stitch pattern is based on my favorite Psalm 23:
The Lord is my shepherd, I shall not want.
It features not only the first words of the Psalm itself, but also a cross and a sheep on green pastures.
Stitch count: 77 x 87 stitches, 10 colors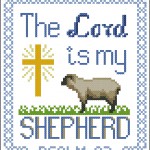 Download "The Lord is my shepherd" free cross stitch chart.
This chart is absolutely free to download, and I would be really glad to see your works, made from it!