Today's pattern is completely original and is based on my own drawing of a turtle with a forest on it's back.
Style of the forest is inspired by beauty of The Book of Kells animation, and the idea of this picture comes from the cosmological myth of the Great Turtle, that carries the world on it's back.
The vibrant colors and animation style of this pattern will make it a great decoration for a playroom.
Stitch count: 110w X 135h stitches, 20 colors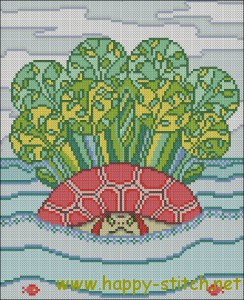 ! Download free Turtle Island cross stitch pattern
Did you know? (I didn't!) In some Native American tribes the Turtle Island is a name for North American continent.
Like that pattern? Say 'way to go!' in comments! 🙂
Схема для вышивки "Остров – черепеха" основана на моем рисунке, a её идея взята из древнего мифа о черепахе, на спине которой покоятся земля и небо. Анимационный стиль рисунка вдохновлен прекрасным ирландско-французским мультфильмом "Тайна Келлс" (The Book of Kells) – очень рекомендую его посмотреть, если вы еще этого не сделали.
Мультяшный стиль и яркие, жизнерадостные цвета этой вышивки отлично подходят для украшения детской.
Размер: 110 X 135 крестиков, 20 цветов