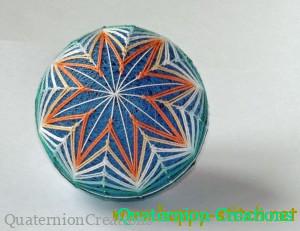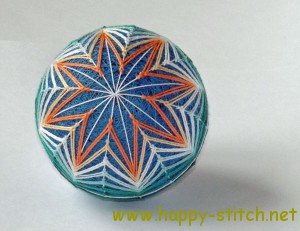 Two temari balls that I made on the temari workshop last week. Both are quite simple, made with uwagake chidori stitch and kiku (chrysanthemum) pattern. The pink one (I would never pick such a color myself, honestly) is decorated with masu squares on the obi. But as for me, I like the blue and green one better (and so does my husband, or else he wouldn't have taken it to his office, would he?)
Oh, and I'm making (at last!) a simple illustrated kiku tutorial that I hope to post next Thursday.
More images in the following gallery: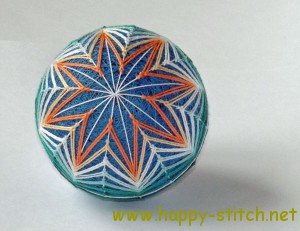 Два шара тэмари, сделанных в рамках мастер класса от Японского фонда, который проходил в Библиотеке Иностранной литературы в конце июля. Оба вышиты узором "кику" (хризантема), розовый еще украшен по центру квадратами. В ближайшее время я надеюсь доделать небольшой урок по созданию хризантемы, скорее всего уже на следующей неделе смогу выложить его.
Но мне даже больше нравится второй (сине-зеленый) шарик, он получился более выдержанным и изящным. Понравился он и моему мужу, который тут же утащил его к себе на работу. Это ли не признание качества? 🙂
Больше фотографий – в галерее.